Accommodation
We are pleased to offer the accommodation in two of Olympik hotels (Conference Venue) in special prices for Photonics Prague 2011 Conference participants for August 20 - 28, 2011.

Artemis Olympik Hotel ****
Tristar Olympik Hotel ***
Reservation Deadline is July 22, 2011
After that date we cannot guarantee your booking request.

ARTEMIS OLYMPIK HOTEL
****
U Sluncov

é

14
Prague 8














Early Bird deadline is June 30, 2011.


Early Bird prices

Late prices

Single room (for 1 person):

CZK 1 700

CZK 1 900

Double room (for 2 persons):

CZK 2 100

CZK 2 300

Accommodation Deposit:

CZK 2 000

EARLY BOOKING = GUARANTEED CHOICE
Reservation Deadline is July 22, 2011
After that date we cannot guarantee your booking request.

TRISTAR OLYMPIK HOTEL
***
U Sluncov

é

14
Prague 8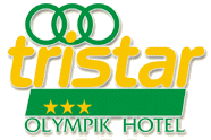 Early Bird deadline is June 30, 2011.
Early Bird prices
Late prices
Single room (for 1 person):
CZK 1 300
CZK 1 500
Double room (for 2 persons):
CZK 1 600
CZK 1 800
Accommodation Deposit:
CZK 2 000
EARLY BOOKING = GUARANTEED CHOICE
To make your reservation, please complete on-line Registration & Booking Form
Reservation Contact: Action M Agency
Mrs. Pavla Kozakova - team@action-m.com
Phone: +420 267 312 334 Fax: +420 267 312 0503

Any changes in hotel booking (after the payment of the accommodation balance) will be solved individually.
Special Prices for Conference Participants
All prices are per night including breakfast and VAT
Accommodation Payment
The amount of CZK 2000 for the accommodation deposit will be charged as a guaranteed booking. Accommodation payment is composed from the accommodation deposit (payable together with the registration fee) and accommodation balance (the difference between paid deposit and the rest of the price of your stay).
The accommodation balance will be charged after August 1, 2011 unless the hotel reservation is cancelled in writing by that date.
Example:
4 nights/single room in Early Bird at Artemis Olympik Hotel
Hotel**** (1 700 CZK per night):
Accommodation deposit = 2 000 CZK
Accommodation balance = 4 800 CZK
Total accommodation payment = 6 800 CZK
We would like to stress that the payment of the accommodation balance before your arrival is required according to Prague's hotel policy, when all hotels in Prague are overbooked and the full advanced payment for group reservations is required. However group reservation allows us to offer you special conference prices.


Cancellation of Accommodation
Refunds of accommodation payments will be granted in full for all written cancellations sent not later than
August 1, 2011
. Cancellations after that date will result in a one-night charge.